About textile artist Daren Redman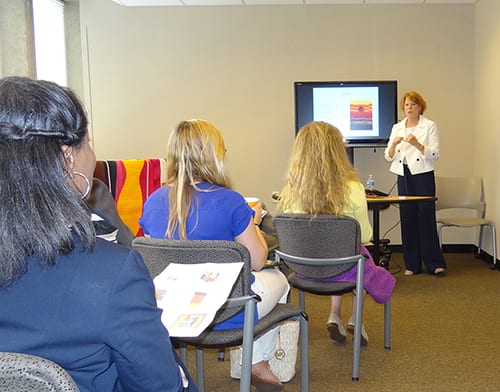 Daren Redman is a textile artist specializing in 2D and 3D art for the home and commercial spaces. She graduated from The College of Communication and Information, School of Journalism in 1992.
Redman returned to the University of Tennessee College of Communication and Information on Tuesday, April 19, 2016. She presented her work she has been producing over the last 10 years. Throughout her career she has written press releases, captions, etc. about her own artwork by applying her PR degree. She remembers her professor, Ed Caudill taught her "Strive for accuracy." With this in mind she doesn't let any piece of work leave her studio unless she believes it is worthy. Her avg. quilt takes 9 months to make. She works in person and on the internet. However, she uses her interpersonal skills more than technology. She suggests to network with others to obtain new relationships and opportunities. Pieces of her artwork are currently in the National Science Museum in Washington D.C.
Alice Wirth asks, "Why Quilts?" Redman started sewing her own clothes after following in her mother's footsteps. She enjoyed learning and working with different fabrics.
Her inspiration for quilts came from when she and her husband visited Santa Fe, New Mexico. While there, she saw a quilt for $40,000 and it was from seeing the quilts there she was inspired to design her own.
She learned the importance of accuracy from her time at The University of Tennessee. She applies accuracy when sending photo file sizes, captions, and writing pieces. She mentions, "accuracy reflects your brand."
Her advice is to students is to have a drop box account and headshot, so when you are going to be publicized you can send people to your drop box account. She concluded with these tips: always dress professional, subscribe to Newsletters of your interest, manage your time, publicize accomplishments, and self critique.
Find out more about Redman's work at http://darenredman.com.